About Stefan
There are the chatterboxes who babble like a waterfall without really saying anything. There are those philosophers who supposedly say deep reaching words, but no one gets it except them. There are the phonies who sometimes say a lot, sometimes a little, but never the truth. 
And there is the body, the human body, which says nothing at all, but speaks all the more and does so disarmingly honestly. 
Body language expert Stefan Verra decodes our body language and gives tips on how to better understand ourselves and others. Humor and lightheartedness is an important tool to make learning easier for all of us. And at the same time he never sacrifices scientific correctness for a quick gag.
More knowledge, than you can google
Body language signals are not a secret language that you just have to decode. It is not that simple. From a scientific point of view, body language is a complex system. Its interpretation depends on many parameters and is constantly changing.
"Most of the quickstep know how from social media is junk! The only serious approach, in my opinion, is to grasp the matter from the ground up. So I always go in search of the origin of a movement, facial expression or posture. That's the only way to get the correct answers."
For an understanding of body language, knowledge of human anatomy, muscle functions, neurology and behavioural biology is therefore important. Yes, even philosophy and physics help us to understand human body language.
Stefan speaks at over 100 company meetings, conferences and customer events every year. In doing so, he imparts valuable body language know-how paired with a lot of entertainment value and power. No matter how the participants enter the event, they will all leave it loaded with tips and energy!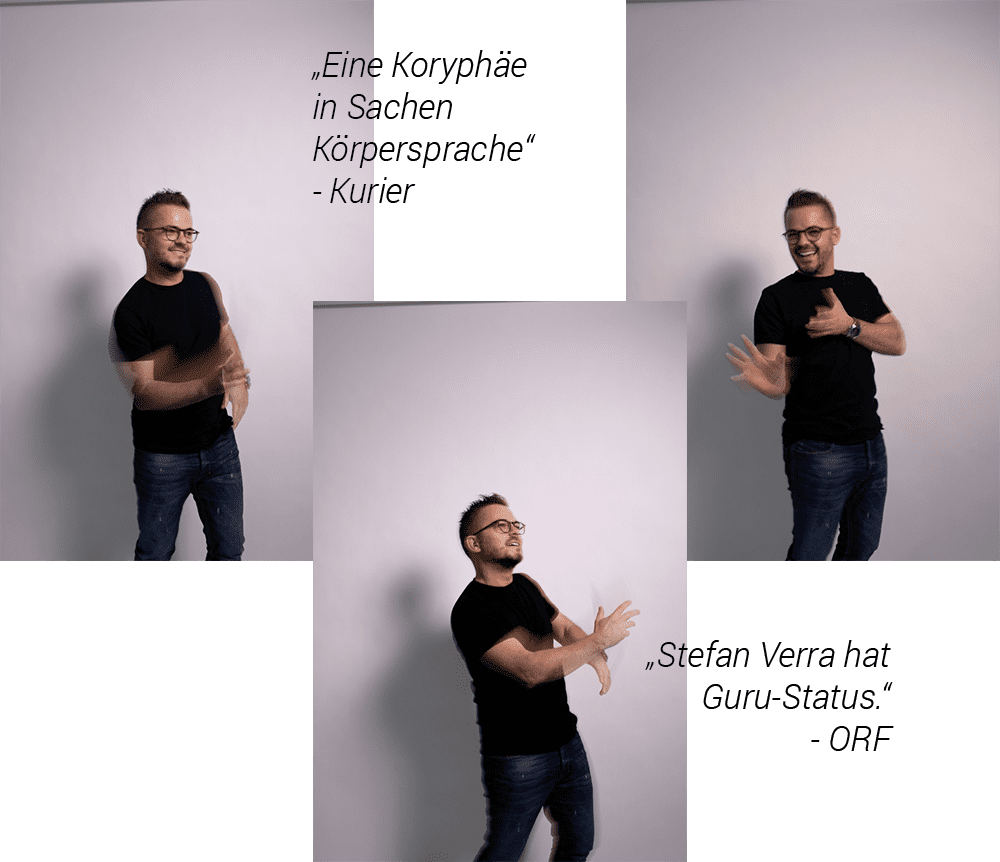 Companies & Organisations (excerpt)
Dyson
Lufthansa
Douglas
Technische Universität Wien
Thomas Sabo
TÜV
Sanofi
Med. Universität Hamburg
BayernLB
Merck
Merz
Universitätsklinikum Salzburg
ORF
ASFINAG
Oracle
Deutsche Vermögensberatung
Dänisches Bettenlager
Flughafen Wien AG
Radisson
Europäisches FORUM ALPBACH
Tupperware
BayWa Bau & Gartenmärkte
Bayer
Media Markt
Saturn
Sony
Pädagogische Hochschulen
Pfizer
Fachhochschule Salzburg
Fujitsu
Electrolux
Eli Lilly
Österrreich Werbung
Raiffeisenbank International
REWE
Novartis
BiTS Iserlohn
Borealis
BSH Haushaltsgeräte
Bilanzbuchhalter und Controller Club
BMW
BÄKO
Citroen
Coloplast
CSC Pharmaceuticals GmbH
Deutscher Journalisten Dienst
Panorama Gasthof Kristberg
Pro Akustik
Pharma Marketing Club
Austria Bau
ÖZEPS
Edwards Livesciences
Energie AG
EPAMEDIA
Bauerfeind
EVN
Familienunternehmer ASU
Ferring Pharmaceuticals
Baxter
Österr. Fussball Bund
Gebrüder Weiss
G.L. Pharma
GrECo
GTW Management Consulting
Hellweg
HEUTE
HOLZ die SONNE ins HAUS
Deutsche Hoteldirektorenvereinigung
Humbaur
IGA Optik
Immobilienkanzlei Schneeweiss
INKU
Innenwelt
IOS Hannover
JOKA
Juweliere von Köck
KCI
Kostal
KTM
Kurier
Kwizda
Leopharma
Linz AG
Lundbeck
Management-Impulse
Marketing-Club Südwestfalen
Maximarkt
Mediatum
Menarini Diagnostics
Menarini Pharma
Modern Products
Mundipharma
Nach(t)leben
Nationalpark Thayatal
Netcetera
Niederösterreich Werbung
OCI Outlet Center Wolfsburg
Olina Franchise GmbH
One Training
Österr.Bilanzbuchhalter & Controller
Radisson
Raiffeisen Informatik GmbH
Raiffeisen Landesbank NÖ-W
RAK Hamm
BBDK
eBestadvice
Beste Österreichische Gastlichkeit
Bettenring
Rotary Club Wien
Samsung
Sanofi-Pasteur MSD
Spänglerbank
S-Service Center
STABIL
Steirische Wirtschaftsförderung
Stmk.Krankenanstaltenges
Ströck
T-Mobile
Takeda Pharma
Verband ö. Werbemittelhändler
VKB-Bank
VIP Business Club Schweiz
VMG Versicherungsmakler
Virbac
WIFI Vorarlberg
W.I.N. Women in Network
Wincor Nixdorf
Wirtschaftskammer Österreich
3C – Design
Gödde
Score Events
Sedlak
Sequis
Skalda Juwelen
Smovey
ComPEtenz
Convince
BAUMEISTERHAUS
AWT
SV Deutschkreutz
Biomet
Blumberg
BMD Systemhaus
SAG
ROTO
Qualifizierungsverbund WV
ETC.
Newsletter
Subscribe to the Body Language Newsletter