Science
"Amazing how Verra analyzes the body language of people … lightning fast and is therefore correct." (Dewezet)
Guest Lectures
Stefan regularly gives lectures at universities and other educational institutions.
Research Projects
Stefan works with experts in the field to research the role of body language in different areas of everyday life.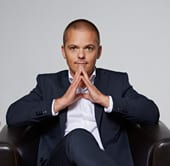 Medical Adherence
Stefan speaks at many international medical conferences.
Social Projects
Body language affects everyone – from businesspeople and leaders to people with autism, cancer patients and our future: children. They should all have the chance to benefit and improve their skills.